Boris Johnson New Prime Minister Of Great Britain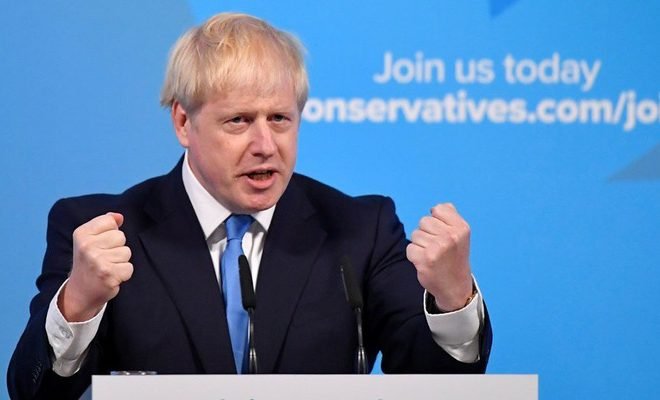 Boris Johnson new Prime Minister of Great Britain. Boris Johnson will be the new British prime minister.
He has won the battle for Conservative leadership from Jeremy Hunt and is, therefore, the new prime minister of 66 million Britons from tomorrow.
That has just been announced. Johnson's win comes as no surprise, in the polls he had a big lead over Hunt.
The nearly 160,000 members of the Conservative party were allowed to vote for one of the two in recent weeks.
Johnson received 92,153 of the votes, and Hunt received 46,656 votes.
Farewell May
The 160,000 Conservative Party members voted by post over the past weeks on the succession of Prime Minister Theresa May.
She resigned after several unsuccessful attempts to steer her deal with the EU through the Lower House.
"Johnson has said he wants to put a thick line through May's deal and start renegotiating with the EU".
"He also promises that the UK will leave the EU by October 31 at the latest. With or without a deal.
Boris Johnson would use this as negotiating tactics to put pressure on the EU.
The issue now is whether this is a bluff, or if he means it "Certainly if he is willing to ignore the wish of the parliament,
 which is against a no-deal Brexit, that will produce political fireworks."
May is expected to offer her resignation to the queen tomorrow.
He will then meet the new leader of the Conservative Party and ask to form a government.
Some ministers have already made it clear that they will not stay on when Johnson comes to power.
Brexit and the Iran crisis
Johnson will immediately have his hands full with the crisis with Iran and the stalemate around the Brexit.
The Conservative Party is internally divided over the departure from the EU,
 has no majority in Parliament and is therefore dependent on the support of the Northern Irish party DUP.
May's successor has until October 31 to find a solution for the Brexit impasse.
Johnson has said he wants to leave the EU by that date, without a deal if necessary.
However, a majority of Parliament has made it clear this year that the latter certainly does not want to.
Less popular as a prime minister
"Boris Johnson became known as the mayor of London for his striking haircut and clownish behaviour.
He was hugely popular with Londoners.
Whether he will be as popular as Prime Minister is doubtful,
 Brexit will overshadow his premiership, and there are opinions divided into two extremes in GB.
The first protests against Johnson as prime minister are already planned. "
Johnson is expected to be installed by the queen as prime minister tomorrow afternoon and to unfold his plans in the lower house on Thursday.